Different Sisters
Different Sisters is a versatile band featuring established Baltimore musicians who enjoy entertaining all audiences. Our musical tastes cover a wide variety from Classic Rock, R&B, Country, Funk, Rock N Roll and Jazz Standards.
Different Sisters is available for all types of events, clubs, festivals weddings, corporate and community functions and other private parties.
We look forward to performing for you, providing the music track for your occasion and making your event a memorable one filled with fun and dancing.
What's In a Name?
Our lead vocalists, Lindsay and Lauren Satterfield are sisters. So what's so different about that? Well, they also happen to be twins...their voices blend with harmonies that will knock you off your feet!
They are supported by a multi-talented rhythm section -

Bill Whitelock - drums,
Mike Foreman - keys/vocals,
Jim Groszer - bass/vocals,
Paul McKeown- guitar/vocals.
---
Video Playlist
---
More Videos and Audio on our
MEDIA PAGE
---
Hunt Valley Towne Centre
---
---
Playoffs Bar and Grill
---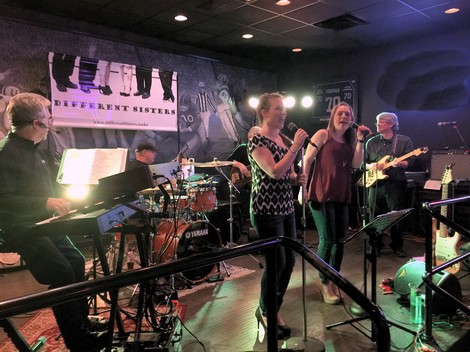 ---
Client Reviews
Bill, it was such a great night. The music was fabulous and the place was rocking........the entire party was on the dance floor all night long. Thank you so much for a fantastic night.
- Shelly Rogers Byrne
From the first contact, every question was answered, every email promptly answered and every request positively addressed. By the night of the event (NYE) I felt like I had a friend in Mike Foreman, the band leader.
They arrived on time, totally self sufficient and ready to set up with a friendly attitude.
The performance was first class!! The variety of music perfect. The band sound was top quality and boy can those ladies sing. We had rave reviews on our website, " best band ever" says it all! Would give them more stars if I could. Highly recommend!
Audience review
Hey, I saw your band play Saturday night at Playoffs in OWINGS MILLS, they were great, loved it, music was excellent and very diverse. We danced all night. Looking forward to seeing the band again.
- Tim McCoig
I love this group, they make everyone of all age groups happy ,they cater to all. They make the earth move too!!ÿþ
- Kathy Christ